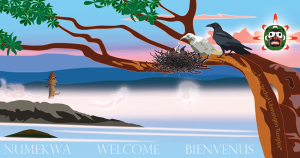 Esquimalt High School  wishes to recognize and acknowledge the Esquimalt and Songhees Nations, on whose traditional territories, we live, we learn, and we do our work.  We invite all students, both indigenous and non-indigenous, to participate in the many courses offered by the Indigenous Education Department.  For more information about district support and programs visit the Greater Victoria Indigenous Nations Education Division website.
Courses offered:
English First Peoples 10, 11 , 12
First Nations Studies 12 
Land Based Learning (grades 9, 10)
For further information and detailed course descriptions, please consult our course guide.

For more information please contact:
Indigenous Counselling & Academic Support
Rachel Trebilco
250-382-9226 ext 187 or 330
In the Community
Our school is located on the traditional territories of the Songhees and Esquimalt peoples.  Visit these websites for more information:
Esquimalt Nation.ca (nation overview)
In the News
"Esquimalt students painting fake fir tree mistaken for Green Party agents" Times-Colonist
"Reviving a First Nations tradition, one stomach at a time. Pit cooking was used to help create a First Nations feast this week in Esquimalt. We visit the scene…" CBC News
Traditional Songs for use in Greater Victoria School District Schools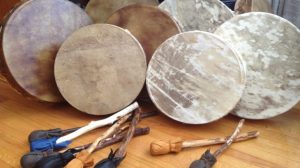 The following traditional songs were gifted to the Greater Victoria School District for use by school district staff in the music and general programs. Members of the three Vancouver Island Nations: Coast Salish, Nuu chah nulth and Kwakwaka'wakw have given formal permission to the Greater Victoria School District to teach the songs to teachers, staff and students and has exclusive rights in doing so. We wish to thank and acknowledge the following members of the First Nations communities and their expertise and willingness to share their traditional songs with all of us.
Songs composed by Bradley Dick, Lkwungen/Mamalilikala Nation
This song was written to symbolize and create fun energy, comfort and connection and can be used when bringing people together to provide a sense of connection and unity.
This song was written to capture the spirit of the building of the new Songhees Wellness Centre. It also acknowledges and honours community collaboration and those who contributed to the development of the centre. It can be used when honoring accomplishments and achievements e.g. awards and graduating students.
Songs composed by Avery Gigalis Nelson, Kwakwaka'wakw/Dzawataineuk Nations
This song was created a few years ago when Gigalis was on his way to a cultural ceremony. The song just came to him and he refined and composed it. This song represents the three stages of the school journey; elementary, middle and high school and it also refers to the stages of life in general.
This song focuses on and acknowledges growth and the building of strength through the stages of childhood. This song was composed for Gigalis's family but he has given permission for its use and to share with teachers, staff and youth in the Greater Victoria School District to demonstrate growth and life changes.
Song Composed by Chief Frank Nelson Yekawid, Dzawataineuk Nation
This song was written in dedication to all the residential school survivors and the generations affected by the residential school system with the goal of encouraging healing and connection.
Song composed by Jessica Sault, Nuu-chah-nulth Nation
This song was composed after Jessica had attended a six week workshop and in her gratitude wrote it to thank all the teachers and gifts she had received and to the ancestors that have been a part of Jessica's life.