The Greater Victoria School District Challenge Program at Esquimalt High School serves the unique needs of gifted, creative, and talented learners. Students who see the world in unique ways and have a true love of deep and creative learning are grouped together in cohort style classes. The aim is to deliver enriched curriculum with teaching strategies that are suited to their intellectual, social, and emotional needs and abilities.
4C Challenge classes maximize the opportunities to enrich students' learning, support students' self-directed studies, autonomous learning, and social and emotional well-being. The 4C Challenge Program develops students' cognitive abilities through differentiated curriculum, acceleration, and enrichment enabling students to achieve their full learning potential.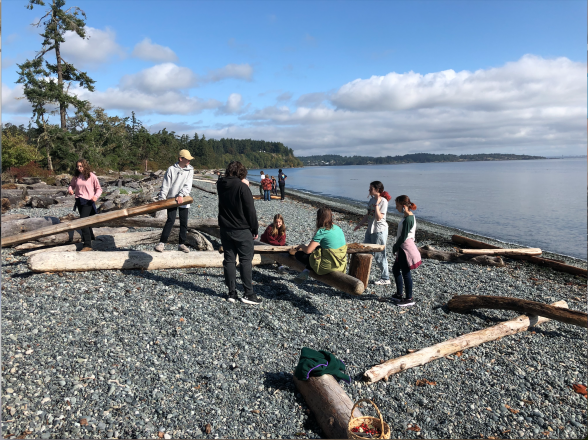 The program is centered on what we refer to as the four "Cs":
commitment to tasks;
creative problem solving;
challenging curriculum and assignments and;
community involvement
More information is available in the documents below and by contacting Chris Koutougos, Esquimalt High School's 4C Challenge Program administrative contact.
Chris Koutougos, Vice Principal
4C Challenge Program Administrator Contact
Esquimalt High School
847 Colville Road, Victoria, BC, V9A 4N9
Phone: (250) 382-9226 Fax: (250) 361-1263 Email:
ckoutougos@sd61.bc.ca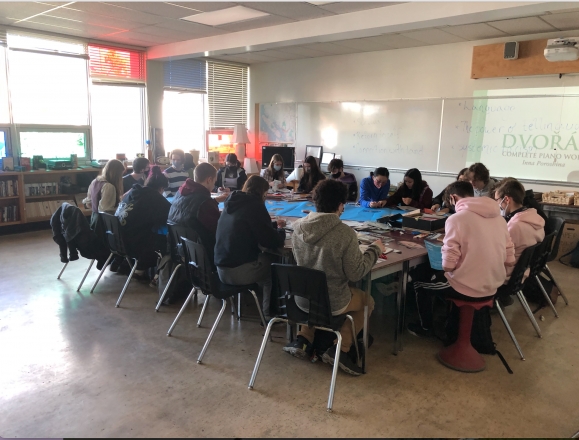 Teacher Profiles

Jamie Burren
Jamie has been a teacher in the Victoria School District since 2013. He found his way to Esquimalt in the fall of 2017 and knew that he had has found his home. Jamie has recently completed his Master's Thesis in Curriculum and Instruction examining the potential of using video games to English Language Arts. Jamie's pedagogy involves finding authentic ways for students to explore their interests in passions in direct conjunction with their learning. Jamie has taught in the Flexible Studies program at Reynolds Secondary, and at The University of Victoria, and is drawn to working with students in alternative educational spaces.

Dana Bjornson
Mrs. Bjornson was a Grade 8 Challenge student at Esquimalt High School in 1985 on the unceded territory of the Lekwungen Peoples. Studies at the University of British Columbia, Royal Roads Military College, and the University of Victoria led her to a degree in Physics and Mathematics and her teaching certification. In 2018, Mrs. Bjornson completed her Master of Educational Technology degree through UBC. With twenty years of teaching experience behind her, this degree has shifted her practice immensely. Blending "tried and true" traditional pedagogy with technology-enhanced activities provide her students opportunities to personalize their learning while learning mathematics and physics. Mrs. Bjornson also teaches Esquimalt's Scholarship 12 class and she is the main contributor to the school's Future Opportunities Google Classroom. She encourages all students to dive deeply into opportunities that go beyond the walls of their timetabled classes. It is through these experiences that one's future life course can be revealed!

Tim Bullard
Mr. Bullard grew up in Victoria, attended the Challenge Program at Cedar Hill Junior Secondary and graduated with a Bachelor of Science and M.Sc. in paleontology from the University of Alberta. Rather than pursue a career as a professional paleontologist Mr. Bullard returned home to enroll in the University of Victoria's Diploma in Secondary Teacher Education. He has been a teacher in Victoria ever since. Mr. Bullard's interest in the extraordinary complexity and beauty of organisms, both living and extinct, is his motivation for teaching, and he tries to pass on some of this fascination to his students.
Anita Roberts
Ms. Roberts hails from England and is a grateful settler on Lekwammen Territory. She has been a university student since 1989 and holds a number of qualifications from various institutions. She looks forward to turning 65 when her tuition will be free! Ms. Roberts' areas of scholarship include English literature and humanities, political science, creative writing and publishing, history in art, literacy instruction, and music. Her current academic focus is indigenous governance. Ms. Roberts began teaching at Vancouver's Point Grey Mini School Gifted Education Program in 1997. In 2000 she began teaching at Esquimalt High School's 4C Challenge Program and was the Program Coordinator from 2003 until 2009.
At Esquimalt High, Ms. Roberts teaches "all the fun courses" including: Women's Studies, Social Justice, Philosophy, Creative Writing, English Literature, Advanced Placement English, and English (with a twist). Ms. Roberts operates the Center for Latin Studies at Esquimalt High School and supports students pursuing a variety of Directed Studies courses which have, over the past few years, included courses in String Theory, Russian literature, postmodernism, film making, architecture, and contemporary choreography. Ms. Roberts is also thrilled to be the teacher sponsor of the Esquimalt SLAM Poetry Collective. Ms. Roberts enjoys exposing students to the expansive education afforded by international travel and has chaperoned trips to Russia, Spain, Greece, Peru, Cambodia, Thailand, and Vietnam. Ms. Roberts welcomes all students to drop in to her classroom at any time and join the conversation!

Clark Schwab
Clark Schwab grew up in Montreal where he attended a private boys school. Early experiences as a sailing instructor and camp counselor may have lead him to take up teaching later in life. Along the way Mr. Schwab completed a Life Sciences diploma at John Abbott College and a Bachelor of Science with Honours in Biology at Queen's University, spent two years at the Montreal General Hospital performing Multiple Sclerosis research and another two years as a trace organic analyst for a diagnostic chemicals lab. Mr. Schwab earned his teaching diploma at the University of Victoria and began teaching in 1993 in Special Education. He later worked as a Resource Support teacher for special needs and behavioral students in Oak Bay High School's Resource Room and received a Special Needs teaching qualification from School District 61 in 1999. Mr. Schwab holds a Master of Education in Administration and Leadership from Gonzaga University. Mr. Schwab teaches Mathematics 9, Science 9 & 10 and Biology 11 as well as teaching in our Challenge program. He says, "I am grateful for the positive energy and enthusiasm of the students I teach, and the wonderfully supportive staff at Esquimalt that have allowed me to explore my passion for teaching over these many years."