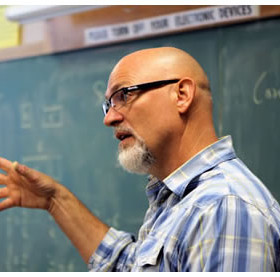 Mr. Barker earned an Associate of Engineering degree from the Oregon Institute of Technology, a Bachelor of Education from the University of Victoria, and a Master of Education in Administration and Leadership through Gonzaga University.
He has lived in several West Coast locales, from Montana to Hawaii, and travelled to Asia, Mexico, Australia and Fiji.
Mr. Barker has taught in the Greater Victoria School District since 1986, and has been at Esquimalt High School since 1990. He teaches Math and Leadership.