Esquimalt High School's Robotics Team will be one of 32 teams competing from all over North America next week.  Teams will be competing from as far away as California, Montreal, Alberta and other parts of BC.
Here is what will be happening: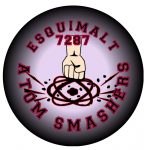 Wednesday: is our setup and last day to do any last minute fixes to our robot.  Day starts at 8:30 am – practice rounds will run from 12:00 pm – 6:00 pm
Thursday: Competition starts.  Rounds run from 9:00 am – 12:00 pm and again from 1:00 pm – 5:45 pm​.  Awards ceremony follows.
Friday: Competition continues.  Rounds run from 9:00 am – 12:15 pm.  Finals run from 1:30 – 4:30 pm.
Follow our progress!  We will be tweeting from @EsqAtomSmashers and the team Facebook is ESQ Atom Smashers.
Even better! We would love to have a cheering section if you are able to make it down to cheer us on.