Esquimalt Atom Smashers Robotics team is competing at the FIRST Robotics Championships  in Houston, Texas!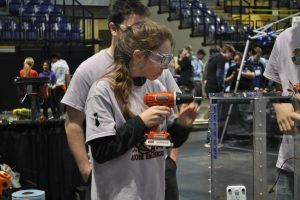 The match times for ESQ's Atom Smashers robotics competition in Houston, Texas are below (times are changed to reflect the local, Victoria PDT time):
Thursday April 19th, 2018
2:01pm- Qualification 31

12:49pm- Qualification 38
Friday April 20th, 2018
5:00am- Qualification 51

6:38am- Qualification 65

7:48am- Qualification 75

12:26pm- Qualification 89

1:29pm- Qualification 98

2:39pm- Qualification 108
Satuday April 21st, 2018
Final (elimination) matches- TBA
(Please keep in mind this is in Houston time- 2 hours ahead of Victoria)
Esquimalt High School formed our first ever Robotics team this year and entered into the FIRST Robotics Canadian Pacific regional competition which took place on March 14-16, 2018 at the Save On Foods Centre in Victoria, BC.
Each team had 6 weeks to build a robot to perform certain tasks as laid out by FIRST Robotics.  Most of the 30 teams in the Pacific regionals involved 30-80 students per team. Our rookie team of just 13 students, over half of which are only in grades 9 and 10, outperformed some of the most well-seasoned teams and very unexpectedly  WON the ROOKIE ALL STAR AWARD. This is a Championship Qualifying Award which means our team has been invited to Houston Texas to compete in the most prestigious international high school robotics competition!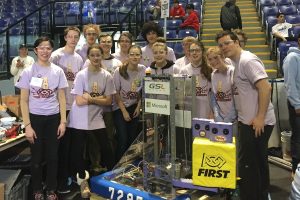 The robotics competition heavily promotes STEM (Science, Technology, Engineering, and Mathematics) education. Our team is structured with roles, including programming, building, marketing and business, with each student contributing and developing their strengths.
This program has enabled our students to design, engineer, innovate, problem-solve and work together as a team. It's been a learning experience like no other they have, or will come across.
The Esquimalt Atom Smashers Robotics team is sponsored by coach/mentor/Esquimalt High school teacher:
Tina O'Keeffe BSc, BEd
Graphics & Design
Business & Information Technology
Science & Technology
Follow the Esquimalt Atom Smashers on Twitter: @EsqAtomSmashers ‏
Follow the Esquimalt Atom Smashers on Instagram: @7287_atom_smashers