We have now sold a record number of Gingerbread House Kits to support CFAX Santa's Anonymous!  Thank you for your support!
Chef Aris and the students in Esquimalt High School's Culinary Program really appreciate the enormous community interest in this fundraising project.  With your help 666 kits were sold and $6660.00 was raised for CFAX Santa's Anonymous.
Those who post a picture of their completed creation by Dec 25th, 2020 to Instagram @esquimalthighschool #gingerbread will be entered to win a prize.
Pick-up
Due to Covid-19, gingerbread house kits will be collected from the loading door to the left side of the main building entrance off Colville Road.  If you are unsure of where to go please look for the signage or call the office at 250-382-9226 for directions, please do not come into the building.  Please ensure you are wearing a mask while on the premises and that physical distancing is maintained.  Kits can be picked up December 10th and 11th and from December 14th to December 17th, 2020 at Esquimalt High School, 847 Colville Road between 10:00 am and 3:00 pm.  If you are unable to pick up during these times please email esquimalt@sd61.bc.ca to make other arrangements.
School District #61 Employee Orders
For those who provide a delivery building location by today at 4pm, delivery will commence Monday, Dec 7th.
Donations to Families in Need Orders
For those of you who purchased kits for families in need, these kits will be distributed by the school later this month to local families in our community.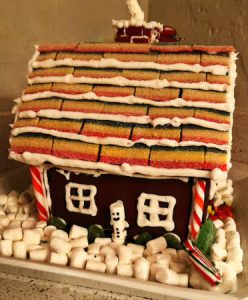 "It's nice to be able to help and know that you are doing something to help other kids, especially given the current situation," said grade 11 student, Alexandra Kurz. "I think more families will need access to support and services during this time so it feels good to help any way we can."
"I personally love baking and it makes me happy," said grade 10 student, Siri Cook. "If my baking can help bring joy and give back to others, then that is even better."
Thanks again for your support!  Merry Christmas!
If you have any questions or concerns regarding pick-up please contact:
Chasity Bradshaw, Accounts Clerk at (250) 382-9226 ext. 157.Over 500 kits have been sold!