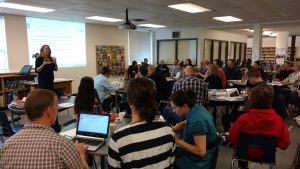 This morning Esquimalt High School launched a new approach to implementing and supporting change at the school.    This was the first of several CORE sessions scheduled for the first part of the second Wednesday of each month of this school year.  CORE presentations will deliver different aspects of the curriculum through grade wide presentations and all grade 9 and 10 students are expected to attend.   Students in grades 11/12 can flex their time.  Most teachers and Education Assistants will be using this time to work collaboratively to plan for the implementation of the changes to the provincial curriculum while students attend CORE presentations,
On the first CORE morning Grade 9 and 10 students participated in a high energy pep rally to build community and connections with each other.  Grade 11 and 12 students were invited to attend a presentation in the theatre about post-secondary school including how to prepare, register etc.  Two teachers offered homework help for other students in grades 11 and 12 who wanted extra support.   Many students made good use of this time.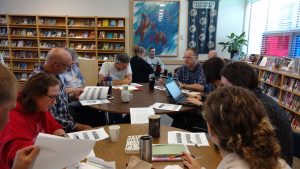 For most of the last year staff have been working on how to ensure the successful implementation of the changes to the curriculum in grades 10 to 12.  Many teachers and other staff will be involved in leading the grade 9/10 workshops and assemblies throughout the year.
Through a town hall forum last year, students requested some time to flex where they could work with classmates on projects etc.  These opportunities are provided by most secondary schools in the Greater Victoria School District.