UPDATED: Esquimalt High School Enhanced Safety Protocols April 1, 2022
Read the updated plan and rules here.
Daily at home health check
All students and staff should complete a daily health check. If you feel unwell, stay at home. Click here for more information.
The K to 12 Health Check website is an easy way to decide if your child should attend school based on their symptoms.
Wearing masks
The decision to wear a mask or face covering is a personal choice for staff, students and visitors. A person's choice should be supported and respected.
Respiratory Etiquette
Students and staff should:
Cough and sneeze into their elbow, sleeve, or a tissue.
Throw away used tissues and immediately perform hand hygiene.
Keep a safe distance and maximize space
Spread out
Avoid sitting face-to-face
Avoid crowding between classes in hallways, on stairs, outside
Respect each others' personal space
Go outside as much as possible
DAILY HEALTH CHECK
KEY SYMPTOMS
WHAT TO DO
Fever (above 38°C)
If yes to 1 or more of these symptoms:
Chills
Stay home. Contact a health care provider or call 8-1-1 about your symptoms and next steps.
Cough
Difficulty breathing
Loss of sense of smell or taste
OTHER SYMPTOMS
WHAT TO DO
Sore throat
If yes to 1 symptom:
Loss of appetite
Stay home until you feel better.
Headache
If yes to 2 or more of these symptoms:
Body aches
Stay home for 24 hours. If symptoms don't get better or get worse, contact a health care provider or call 8-1-1 about your symptoms and next steps.
Extreme fatigue or tiredness
Nausea or vomiting
Diarrhea
Check our school newsletter, The Docker and the school's Twitter, Facebook and Instagram accounts for the latest information on school programs, events and support.
Stay Connected
Students – check your sd61learn email accounts and Google classrooms for news from your teachers.
Government Announcements & Programs
Go to BC's COVID-19 Health website: covid19.thrive.health or call 1-888-COVID19. Phone lines are open 7 days a week from 7:30 AM to 8 PM, and information is available in more than 110 languages.  More information is also available through the Government of Canada's website at canada.ca/coronavirus
Having trouble keeping up with all the COVID-19 news? Bowinn Ma (MLA for North Vancouver-Lonsdale) has compiled a summary of important public health orders and government resources in one list to help you navigate the sea of new information out there.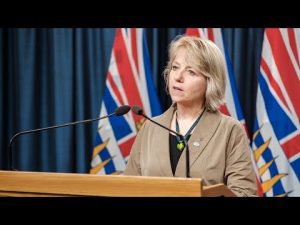 Google Classroom, Zoom and GSuite Support