We have now sold a record number of Gingerbread House Kits to support CFAX Santa's Anonymous!  Thank you for your support!
Chef Aris and the students in Esquimalt High School's Culinary Program really appreciate the enormous community interest in this fundraising project.  Over 500 kits have been sold!
Those who post a picture of their completed creation by Dec 25th, 2020 to Instagram @esquimalthighschool #gingerbread will be entered to win a prize.
Kits can be picked up December 10th and 11th and from December 14th to December 17th, 2020 at Esquimalt High School, 847 Colville Road between 10:00 am and 3:00 pm.  If you are unable to pick up during these times please email esquimalt@sd61.bc.ca to make other arrangements.
School District #61 employees
If your building orders more than 10 kits – delivery to your building will be arranged.  Please indicate what building you work at in the "Who are you purchasing this for" field.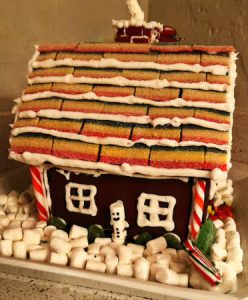 Thanks for supporting this wonderful endeavour.
"It's nice to be able to help and know that you are doing something to help other kids, especially given the current situation," said grade 11 student, Alexandra Kurz. "I think more families will need access to support and services during this time so it feels good to help any way we can."
"I personally love baking and it makes me happy," said grade 10 student, Siri Cook. "If my baking can help bring joy and give back to others, then that is even better."