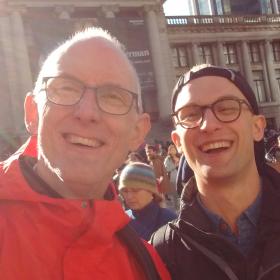 Grateful for the opportunity to have grown up, live and work in the traditional territories of the Lekwungen speaking peoples, the Esquimalt and Songhees nations, Geoff has had the honour of serving as the teacher-librarian at Esquimalt High School since 2001.  Geoff is also a proud alumnus and parent of  Esquimalt High School alumni.
After studying anthropology and English literature at McGill University Geoff continued with graduate studies in education at McGill and completed his M.Ed. in Library and Information Science and School Administration through the University of Alberta. Geoff has worked in community education as well as at elementary and secondary schools in Quebec and BC and has published and presented locally and nationally. Geoff loves working with students and teachers to support literacy, guide inquiry-based learning, facilitate critical thinking, nurture creativity and global awareness.  He is honoured by the opportunities he now enjoys to mentor new teachers and new teacher-librarians.
As well as his work with students and colleagues in the school library learning commons Geoff has enjoyed supporting the long-running student club Esquimalt Students Caring About Peace and the Environment (ESCAPE) for twenty years.
Linked to this work Geoff has supported several sustainability initiatives at the school ranging from helping to start the Esquimalt community garden in nearby Anderson Park to introducing students to permaculture design principles, supporting other related student clubs such as the Outdoors Club, tree-planting projects on the school property, developing a comprehensive school-based recycling program, and most recently working with the Environmental Educators Provincial Specialists' Association of BC and the Greater Victoria Teachers' Association Climate Action Committee to help the Greater Victoria School District address its declaration of a climate emergency.